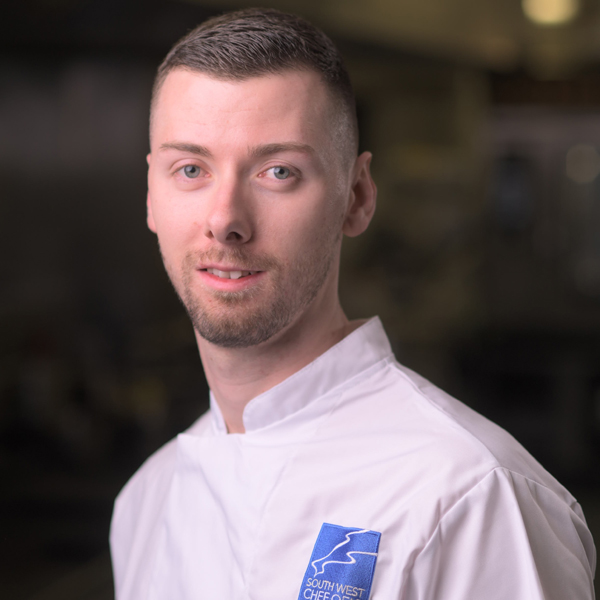 Edward Marsh
South West Chef of the Year (overall) and South West Professional Chef of the Year 2019
Head Chef at The Manor House Hotel, Castle Combe
Edward started his career at the University College of Birmingham and, after graduating, moved to the South West to work under prestigious chef, Hywel Jones, at Lucknam Park where he progressed to the role of junior sous chef. After leaving Lucknam Park, Edward took up the position of sous chef at the Manor House, Castle Combe, under executive chef, Robert Potter, helping in the running of the kitchen and delivering Michelin star dishes to hungry diners.  At the end of 2021, he was promoted to head chef.
Edward is no stranger to competitions, he has represented England both in the national culinary team and solo in international competitions for the last 8 years, competing against chefs from around the world. Following his success in winning South West Chef of the Year, Ed went on to compete in other competitions, beginning with the World Association of Chefs' Societies (WACS) Culinary Olympics in Germany in February 2020, where he was part of the England senior team that was awarded the silver medal.  Later in 2020 he also competed in the Craft Guild of Chefs National Chef of the Year and the WACS Global Chefs Challenge in Russia.
Edward was also named as one of the '30 under 30′ recipients of a prestigious Acorn Award in 2020.
In addition to the South West Overall and Professional Chef titles, Edward also received the award for the best menu in the competition.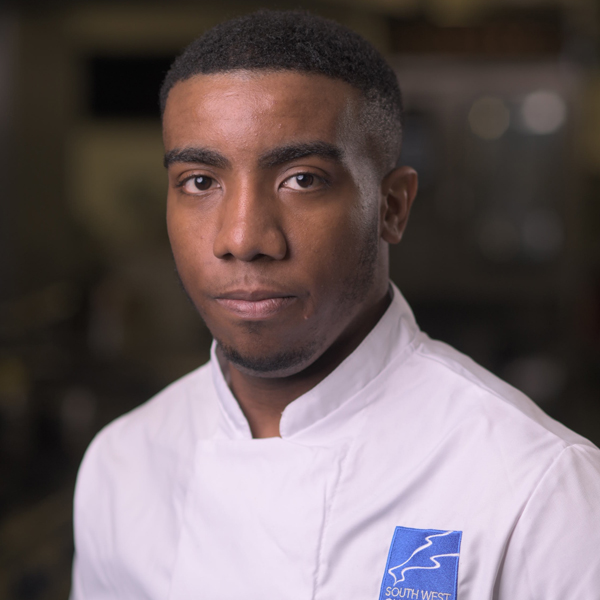 Jamaar Semper-House
South West Young Professional Chef of the Year 2019
Junior Sous Chef at Lucknam Park, Bath
Jamaar completed an Iv3 NVC Apprenticeship in catering through City of Bristol College, working as an apprentice at Berwick Lodge in Bristol. On completion of his apprenticeship, Jamaar became chef de partie at Berwick Lodge from where his head chef arranged a stage for Jamaar at Michelin-starred Lucknam Park, working under Hywel Jones. So inspired was Jamaar that he enquired about working full-time at Lucknam Park and was subsequently offered the position of commis chef, being promoted to chef de partie soon after, a position he held when he won the competition.  Jamaar was further further promoted to junior sous chef, before moving, in early 2022, to take up a new position as junior sous chef at the Manor House Hotel, Castle Combe, working with fellow 2019 South West Chef of the Year winner, Ed Marsh (head chef).
Jamaar is no stranger to South West Chef of the Year, reaching the final of the Student/Apprentice Chef category in 2016 before entering for a second time and winning the title of South West Young Professional Chef of the Year in 2019.
Jamaar also entered the Royal Academy Of Culinary Arts competition in 2019 successfully achieving an annual award of excellence.
Jamaar hopes to run his own Michelin-starred restaurant in the future and also has his eye on the senior professional category of South West Chef of the Year!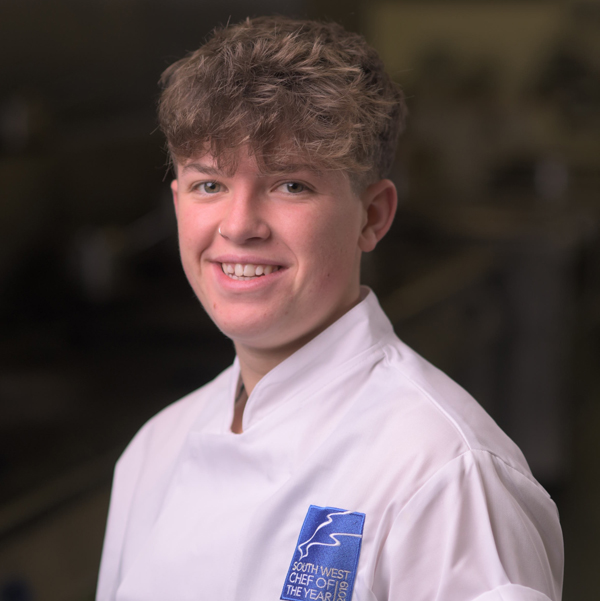 Rosie Nevill
South West Student/Apprentice Chef of the Year 2019
Student of the Michael Caines Academy, Exeter College and baker at The Little Bakehouse, Launceston
Rosie was always interested in food and enjoyed experimenting with ingredients from a young age. This passion helped her to achieve 100% in her GCSE catering, convinced her to switch path from the sciences to pursue a career in catering and led her to the Michael Caines Academy at Exeter College. After completing levels 1 and 2 VRQ at the Academy, Rosie is now studying for a level 3 NVQ in professional cookery. Whilst studying, she is also working at The Little Bakehouse, an artisan sourdough bakery in Launceston.
To broaden her experience, Rosie has enjoyed a six-week stage at Michelin-starred The Latymer at Pennyhill Park, working under Matt Worswick, and one week at Michelin-starred Lucknam Park under Hywel Jones.
Rosie has a very successful track record in competitions having entered and won the Major Series Street Food class in 2018, The Ray Kenny Bursary in 2019 and, most recently, South West Student/Apprentice Chef of the Year, also in 2019.
In addition to taking the title of South West Student/Apprentice Chef of the Year in 2019, Rosie was also the recipient of the award for the Best Dish in the competition for her main course dish of pheasant with mushroom and tarragon.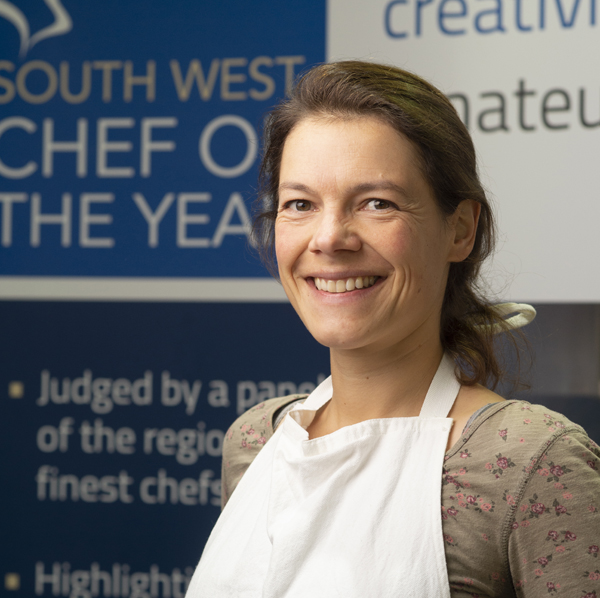 South West Home Cook of the Year
Marie-Joelle West
Exeter, Devon
Marie-Joelle came to the UK in 2007 to study towards a PhD in the life sciences. Her passion and love for cooking that she inherited from her French mother and German grand-parents has been a constant source of joy in her life. She has enjoyed taking part in competitions for amateur cooks and been awarded several prizes, including runner-up at the Martin Wishart Cook school competition in Edinburgh. Marie-Joelle particularly enjoys the creative process of designing menus and recipes, which have been featured in the Guardian and the local press.
Prior to starting a family in Devon, Marie-Joelle's passion led her to run private supper clubs and pop-up dining events, catering for up to 50 people. Now, her 3-year old son is her greatest critic. Together, they enjoy spending time in the kitchen and making pasta, prepping vegetables and of course baking cakes and biscuits!
Following the award of South West Home Cook of the Year, Marie-Joelle has set-up a small business from her own kitchen where she creates home-cooked meals that cater for the needs of busy everyday lives. At the heart of Marie-Joelle's cooking is food with a good conscience that is good for us and the planet – an ethos that she wishes to spread as far and wide as possible!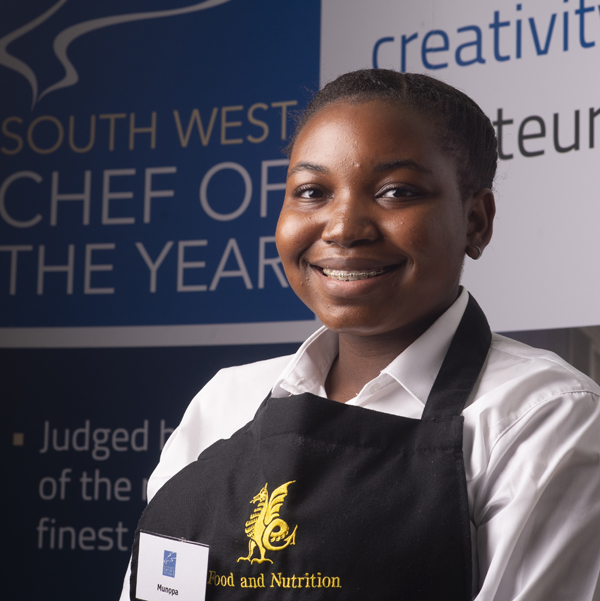 Munopa Nhete
South West Junior Chef of the Year
Queen's College, Taunton, Somerset
Munopa successfully reached the final of South West Junior Chef of the Year for the second time in 2019, after first competing in 2017.  On both occasions, Munopa was mentored by South West Chef of the Year judge, Laim Finnegan, head chef at The Castle Hotel, Taunton.
She is a student at Queen's College, Taunton and is passionate about food and cooking.