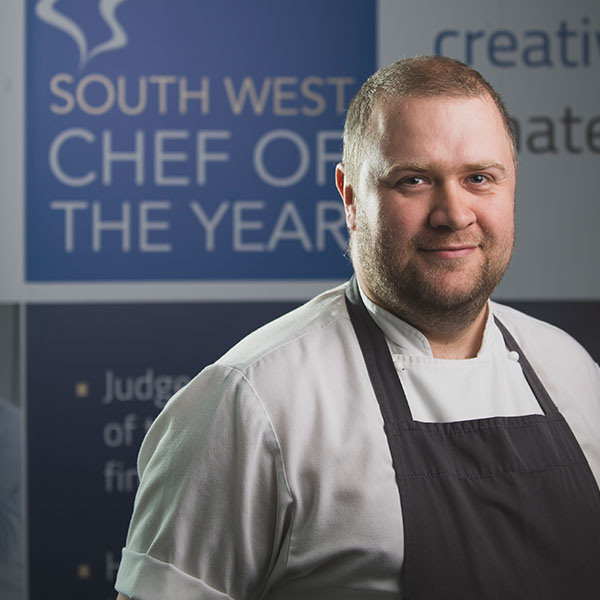 Overall and Professional winner: Rob Cox
Rob began cooking at a very early age to earn pocket money on a Saturday!  He went on to obtain a degree in hospitality at Manchester University.  After enjoying some memorable meals at a number of restaurants in France, he realised that his passion was for cooking.
He took a position with Gary Rhodes at the Waters Reach in Manchester before moving to ABode Manchester where he began as chef de partie.  Rob worked at ABode Manchester for 8 years, progressing to Executive Chef.
He then moved on to become head chef at the Tudor Farmhouse Hotel, Clearwell, from where he entered and won South West Chef of the Year 2017.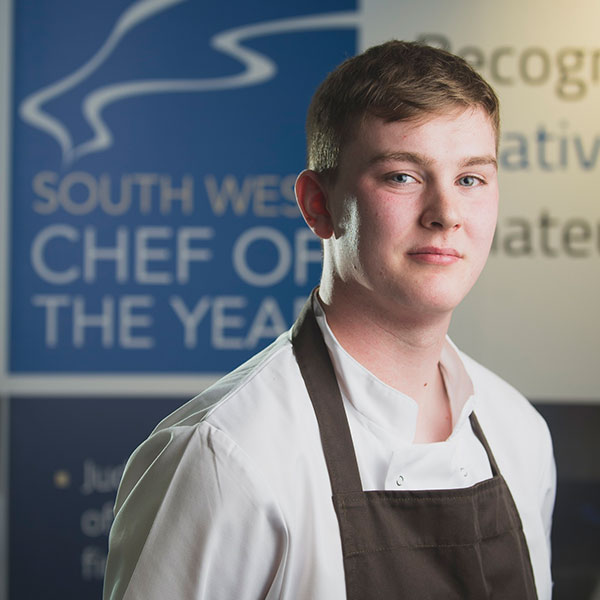 Young Professional winner: Joshua Murphy
Joshua studied Level 1 Hospitality and Catering at Gloucester College and then proceeded to a Diploma in Professional Cookery.  He began work as comic chef at Le Champignon Sauvage with David Everitt-Matthias before moving to Lucknam Park, again as commis chef, where he worked under Hywel Jones for three years and from where he entered and won South West Young Professional Chef of the Year 2017.
In July 2018, Joshua took a position as chef de rang at Lympstone Manor, working with Michael Caines.
Joshua one day hopes to become head chef at a Michelin-starred restaurant or gastropub.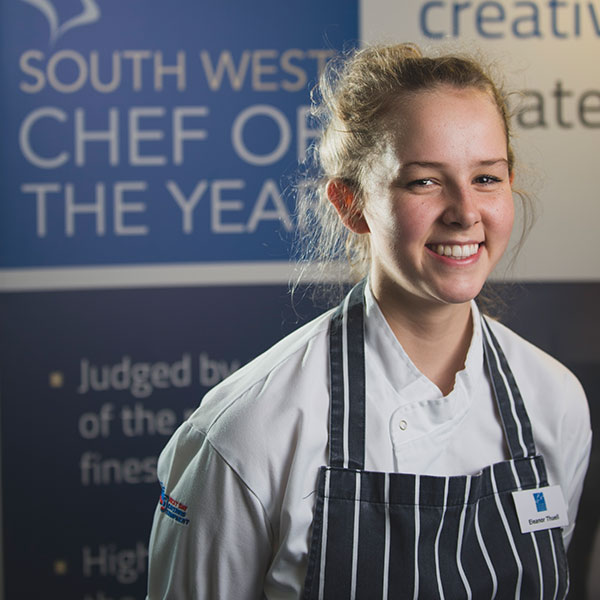 Student/Apprentice Chef winner: Eleanor Thuell
Eleanor studied at Exeter College, also working as an apprentice chef at the Rodean Restaurant, Kenton, near Exeter when she entered South West Student/Apprentice Chef of the Year.
In addition to this title, Eleanor also won the Ray Kenny Bursary Award and, in so doing, won a stage at Lucknam Park Hotel and Spa near Bath, working with Executive Chef, Hywel Jones and his team.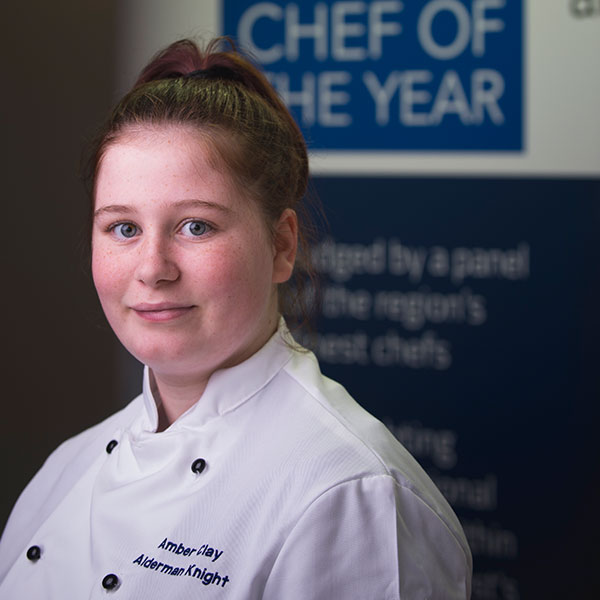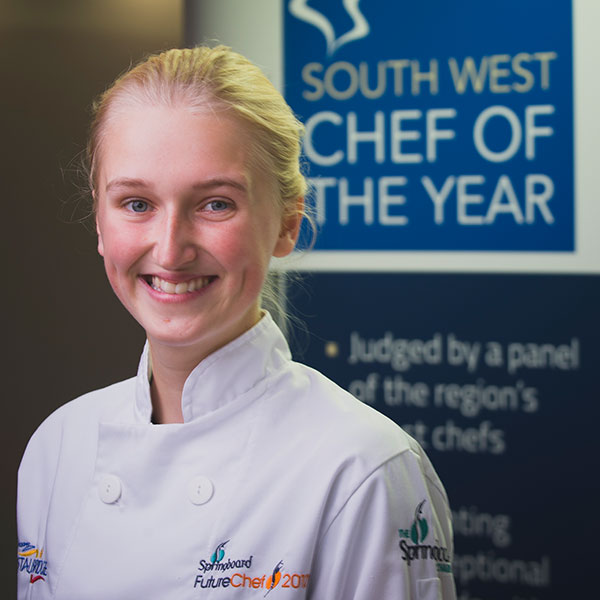 Joint Junior winners: Amber Clay and Anna West
So impressed were our judges with the exceptional standard of the Junior final and the range of skills on display from all finalists, that they were unable to select just one winner.  After a great deal of deliberation, they chose to name two young cooks as joint winners.
Amber Clay
Amber was a pupil at Alderman Knight School in Tewkesbury and after entering and successfully reaching the Gloucestershire county final in both 2016 and 2017, she qualified for the South West final after winning the Gloucestershire county final in 2017.  Amber was mentored by Gloucestershire final judge, Gus Ashenford, chef proprietor of Restaurant 5 North Street, Winchcombe who helped her to prepare her dish for the final.
After leaving school in 2018, Amber began to study an apprenticeship through Gloucestershire College Cheltenham and, as a result of winning South West Junior Chef of the Year, secured an apprentice chef position with Gareth Fulford at Purslane Restaurant in Cheltenham.
Amber is considering entering the Student/Apprentice Chef category in the future!
Anna West
A pupil at Penair School, Truro, Anna also entered South West Chef of the Year in both 2016 and 2017 and, like Amber, reached her county final in Cornwall on both occasions.  In 2017, Anna won the Cornish final, securing her place in the South West final.  She was mentored by Stephane Delourme, head chef at the Seafood Restaurant, Padstow, who helped her to develop her skills and elevate her dish for the final.
After taking up her prize of work experience with David Everitt-Matthias at Le Champignon Sauvage in Cheltenham, Anna has also spent some time in the kitchen at the Driftwood Hotel, working with Chris Eden and his team.
Anna has also been very successful in the Springboard FutureChef competition, reaching the national final in 2016.
Anna is now working hard on her International Baccalaureate studies.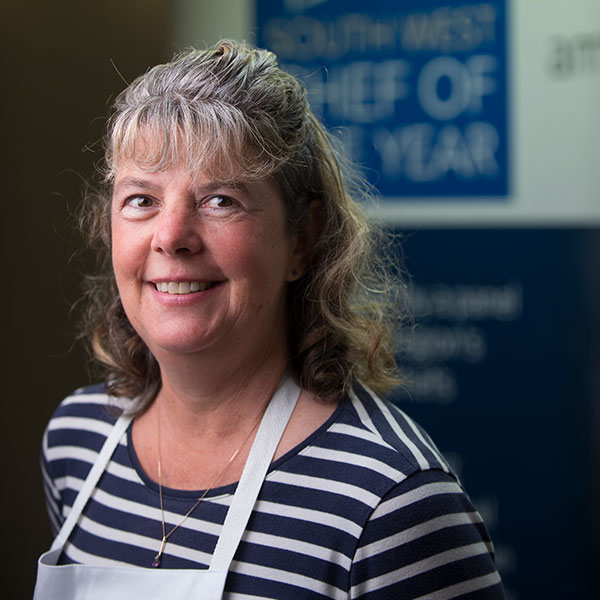 Home Cook winner: Sue Stoneman
Sue is an enthusiastic home cook from Exmouth who loves to cook for her family and friends. Her cooking is not confined to her kitchen, she also cooks outdoors on her barbecue and in a wood-fired oven that she built herself. A real 'foodie', Sue loves to create dishes using local produce and enjoys hunting out new, local food products, suppliers and foodie gadgets wherever she visits on her travels. It is no surprise then that she was also presented with the award for the Best Use of Regional Produce in 2016.
Sue works at Bigfire at Dartington near Totnes, where she is occasionally able to cook and demonstrate her skills in a variety of outdoor ovens. She also does demonstrations at local food and drink festivals and national shows with both Big Fire and A Taste of Game. She is an active member of the Budleigh Food and Drink Festival committee. She also enjoys writing about food and is a regular contributor for Dining Devon, the UK BBQ Magazine, Taste Buds magazine and has written restaurant reviews for Crumbs Magazine. Her love of cooking has also led to a television appearance on the BBC programme, The Box, with James Martin.
Sue has been very successful in other competitions too, holding the title of West Country Baking Champion which she won at Exeter Food & Drink Festival in 2015 and Sticky Toffee Pudding Champion 2015, a regional competition open to both professional and amateur chefs held annually in Padstow. Most recently, Sue took part in the national final of the Teflon Keen Home Cook competition in both 2018 and 2019.
Sue reached the final of South West Home Cook of the Year originally in 2015 and, taking on board the feedback provided by the judges, entered again in 2016 and 2017 when her quest was successful on both occasions! Since winning South West Home Cook of the Year, Sue shares her cooking stories, hints and tips on her local radio station BayFM and describes herself as "one happy Home Cook!"