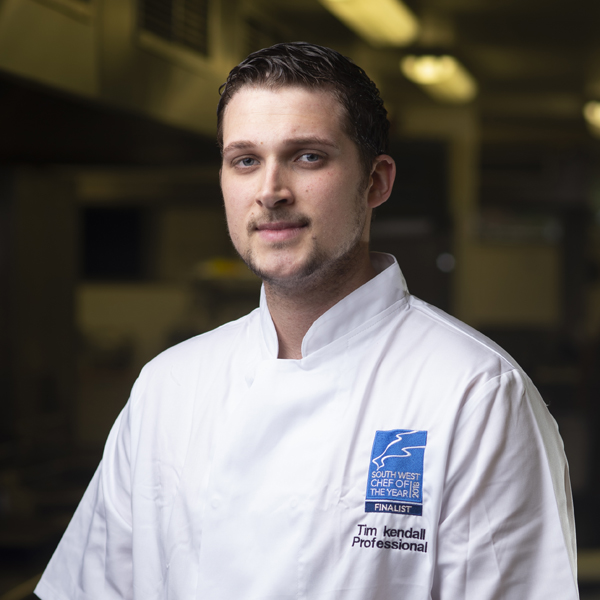 Overall and Professional winner: Tim Kendall
Tim has been successful in the South West Chef of the Year competition twice, winning the Young Professional Chef award in 2016 and, two years later, returned to win South West Overall and Professional Chef of the Year in 2018.
Tim chose cooking as a career because of his love of eating and he knew he wanted to be a chef from a young age! He began his career at Cornwall College St Austell where he studied for two years for a VRQ. Whilst at college, Tim enjoyed a number of stages at various restaurants, including one at Rick Stein's Seafood Restaurant in Padstow working with head chef, Stephane Delourme, who has been a significant mentor for Tim and who offered him a permanent position as a commis chef.
After a year, Tim decided to move to London to work for Marcus Wareing and was a part of the opening team at his restaurant, The Gilbert Scott, in the St Pancras Renaissance Hotel. He then took a position with Michel Roux Junior at the 2 Michelin starred Le Gavroche.
After working in London for 2 years, Tim came back to Cornwall to take on stages at St Moritz with Jamie Porter, Paul Ainsworth at Number 6 and Chris Eden at the Driftwood. In July 2014 Tim took a break from the kitchen before going back to the Seafood Restaurant in January 2016. In January 2017, Tim took on the position of Senior Chef de Partie, working with Guy Owen, at The Idle Rocks in St Mawes, Cornwall, where he was promoted to Sous Chef at the beginning of 2018 and to head chef in May 2019.
In January 2020, Tim took the bold step of launching his own business as the chef-owner of The Barley Sheaf in Gorran, Cornwall, in partnership with his wife, where he showcases the best local and seasonal produce and shortly afterwards opened a second establishment, The Rising Sun at Altarnun near Launceston.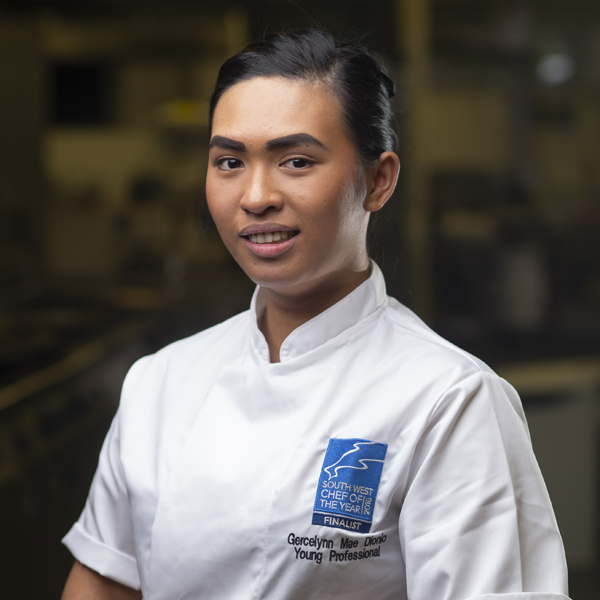 Young Professional winner: Mae Dionio
Mae studied for Level 1 and 2 Professional Cookery at Exeter College.  During her time there, she won the Ray Kenny Bursary Award, the prize for which was work experience at Lucknam Park.  Whilst there, she was offered a position as commis chef, later being promoted to demi chef de partie.  In late 2020, Mae moved to the Manoir aux Quat'Saisons, initially as commis chef, later being promoted to demi chef de partie.
In addition to her success in the South West Chef of the Year competition, Mae also won a Royal Academy of Culinary Arts Annual Award of Excellence in 2018.
Mae always had an interest in cooking from an early age.  She thoroughly enjoys her work and the fact that she is always learning.  Her long-term ambition is to follow in the footsteps of her mentor, Hywel Jones, and become a head chef in a Michelin-starred kitchen and pass on what she has learned to the next generation.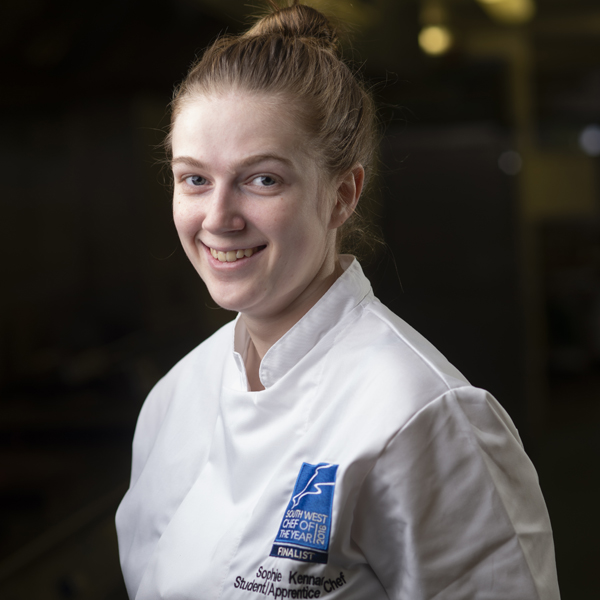 Student/Apprentice Chef winner: Sophie Kennard
Sophie was studying for a Level 3 Apprenticeship at Exeter College and working at The Swan at Bampton, Devon, when she won her award.  She had previously studied for Levels 1 and 2 Professional Cookery at Bridgwater and Taunton College.  After completing her apprenticeship, she continued to work at The Swan until 2020 when she took a position at the Jack in the Green, near Exeter, being promoted to second chef in October that year.
She has always thoroughly enjoyed cooking and aims to continue to develop her skills further.  In the future, she would like to own her own restaurant focusing on local and seasonal food.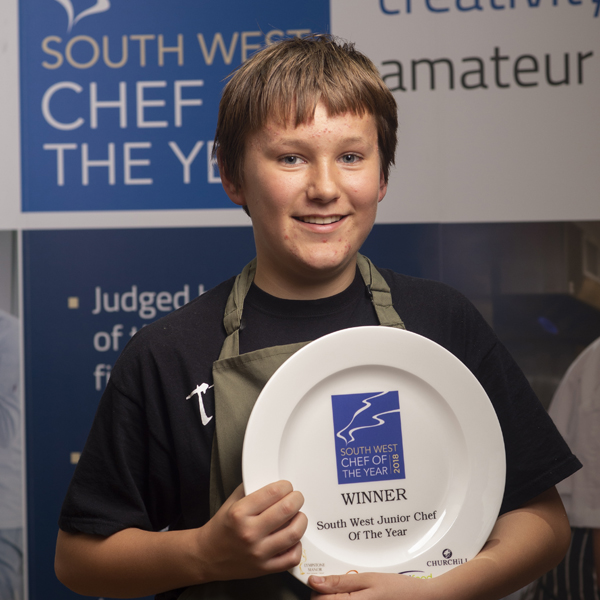 Junior Chef winner: Conor Boakes
Conor was only 13 when he entered South West Junior Chef of the Year and his obvious talents in the kitchen secured him the title of Somerset Junior Chef of the Year initially, which meant he qualified for a place in the final.  As a finalist, Conor was mentored by South West Chef judge, Liam Finnegan, head chef at The Castle Hotel, Taunton, in preparation for the final where he, again, impressed the judges to pip the winners of the five other county finals to the post.
As finalists, all six were also invited to compete in the South West regional final of the Springboard FutureChef competition in early 2019 and here Conor continued his success, winning the regional final to earn a place in the national final in London where he cooked extremely well but wasn't fortunate enough to win.  In early May 2019, Conor joined Michael Caines and the other winners of South West Chef of the Year 2018 on stage to demonstrate his winning dish at the Exeter Festival of South West Food and Drink.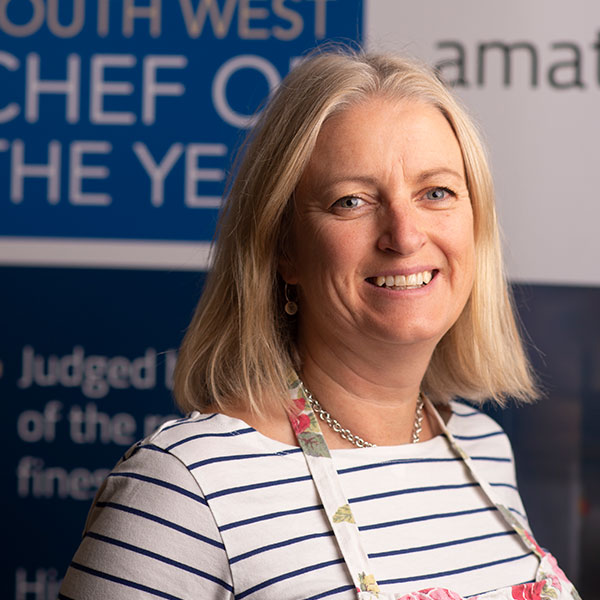 Home Cook winner: Oonagh Egerton
Oonagh has successfully reached the final of South West Home Cook of the Year twice and in 2018 cooked her way to the title!  A very keen cook, Oonagh loves to cook for her family and friends.
As part of her prize, Oonagh won a cookery course at Ashburton Cookery School and one of the skills she learned there was pasta making, which she put to good use when she joined her fellow winners and Michael Caines on stage at the Exeter Festival of South West Food and Drink in May 2019, to demonstrate a dish for a very appreciative audience.