South West Chef of the Year has returned with the opening of entries in the Junior Chef category
We are very excited to bring back the South West Chef of the Year competition following a forced break for two years due to the pandemic.  The 2022 competition will begin with the Junior Chef category for which entries are now open.
This category is open to young cooks aged 11-16 who are invited to submit their recipe for a main course dish to serve two people using principally locally-sourced ingredients.
After evaluating all the recipes entered, our judges will select those junior chefs they would like to invite to the next round of the competition, to cook for a chance to earn the title of the top young cook in their own county.  Each county winner will then meet at the grand final of South West Junior Chef of the Year in October.
County finals will take place at catering colleges in each of the six counties of the region in late June.  Each county winner will also benefit from mentoring from one of our judges to help them to enhance their dish and prepare for the final.
The winner of South West Junior Chef of the Year, decided at the final in October, will be given the opportunity to gain valuable experience in the kitchen of renowned and highly-respected Michelin-starred chef, David Everitt-Matthias, at his restaurant, Le Champignon Sauvage, in Cheltenham.
Find out more about this category and how to enter here.
We are extremely grateful to the sponsor of our Junior Chef category – Nisbets and to our lead sponsor – Bidfood
Pictured above: George from Truro School (Cornwall Junior Chef of the Year and South West finalist 2019)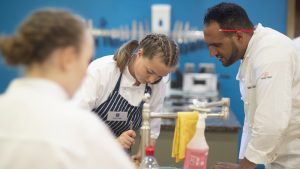 South West Junior Chef finalists 2018, Katie (Dorset Junior Chef of the Year) and Samantha (Devon Junior Chef of the Year), pictured with Michael Caines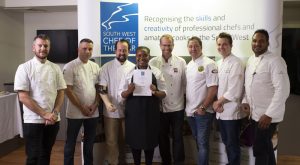 South West Junior Chef and Somerset Junior Chef of the Year winner 2019, Munopa, pictured with some of our judges