The 2018 winners of South West Chef of the Year all appeared in the cookery theatre at the Exeter Festival of South West Food and Drink 2019 on the May bank holiday weekend where they demonstrated their winning skills for the audience.
Beautiful weather brought many to the Festival where they were met with a range of food and drink producers, live music and, of course, a vibrant cookery theatre.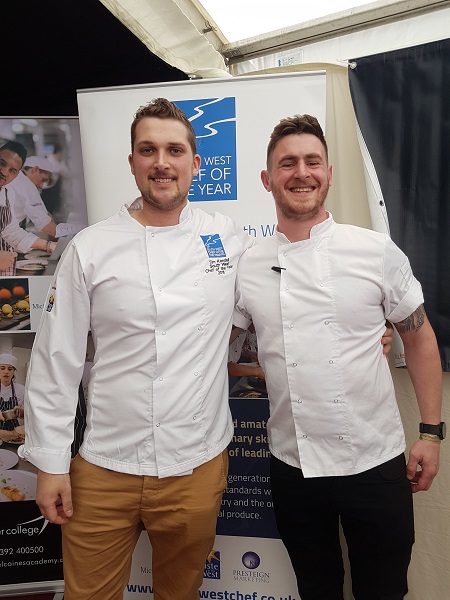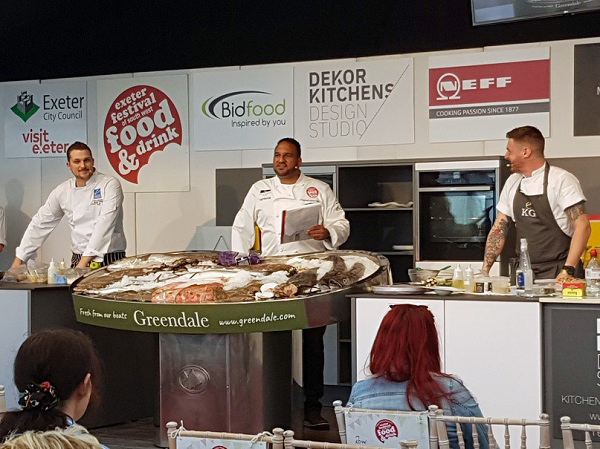 First up, on Saturday 6th May, the crowd was treated to a re-match between two finalists in the Professional Chef category of the 2018 competition!  South West Chef of the Year 2018, Tim Kendall, sous chef at The Idle Rocks, St Mawes, was cooking along side fellow finalist and winner of the Best Dish Award 2018, James Checkley, head chef at Kentisbury Grange, Barnstaple.
The pair were joined on stage by Michael Caines and fellow judge, Seth Ward, representing the competition's lead sponsor, Bidfood.  After much competitive but friendly banter, the audience were asked to choose their winner by way of cheering!  A very close result forced Seth to check the crowd's response several times before concluding that James had received the most vocal response!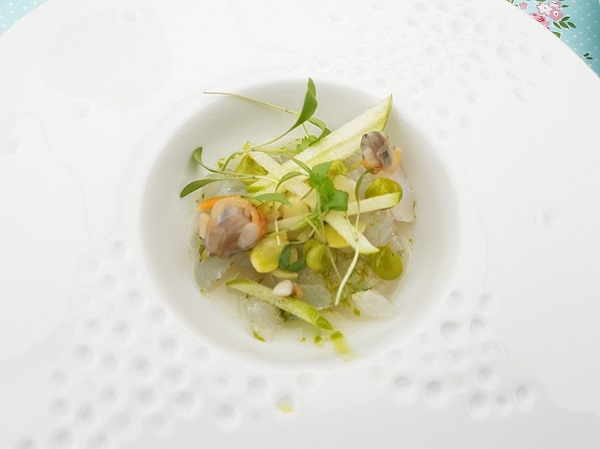 Tim recreated his winning starter of cured Pollack with Tiger milk ceviche, apple and lemon gel.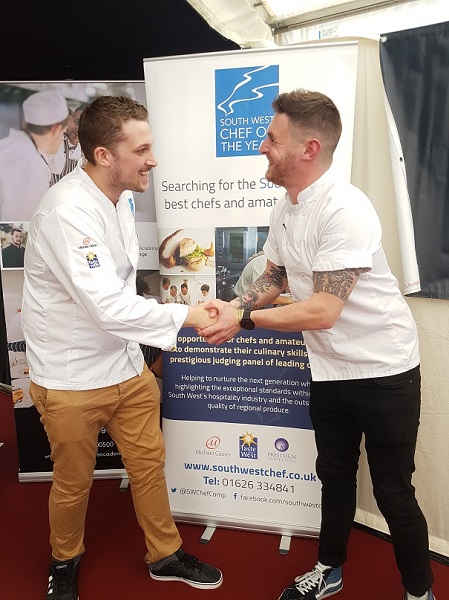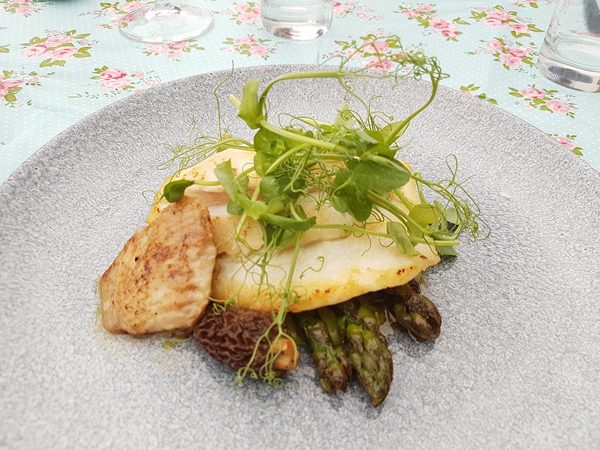 James prepared pan fried Turbot with confit chicken wing, asparagus and morels.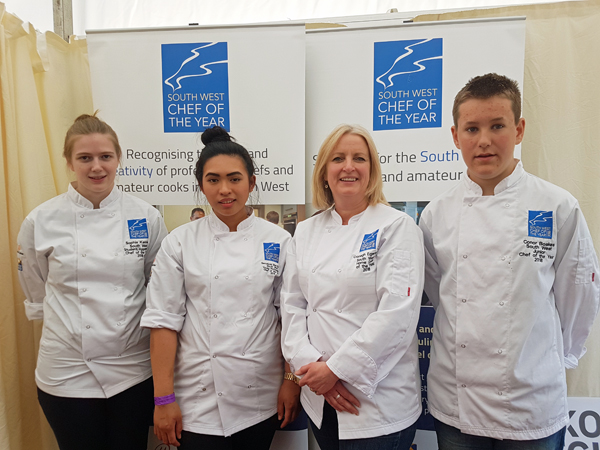 On Monday 6th May, the four remaining winners of South West Chef of the Year 2018 appeared together on stage to prepare four diverse dishes.  Pictured above, from left to right, are:
Sophie Kennard, South West Student/Apprentice Chef of the Year 2018, apprentice chef at The Swan, Bampton and Exeter College
Mae Dionio, South West Young Professional Chef of the Year 2018, chef de partie at Lucknam Park, Bath
Oonagh Egerton, South West Home Cook of the Year 2018 from Salisbury, Wiltshire
Conor Boakes, South West Junior Chef of the Year 2018, a student at Whitstone School, Shepton Mallet.
They were joined on stage by Michael Caines, Seth Ward and James Checkely who was on hand to support all four if any assistance was required!  South West Home Cook 2016 and 2017, Sue Stoneman, also joined us at the chefs' table where she was able to enjoy the chefs' completed dishes!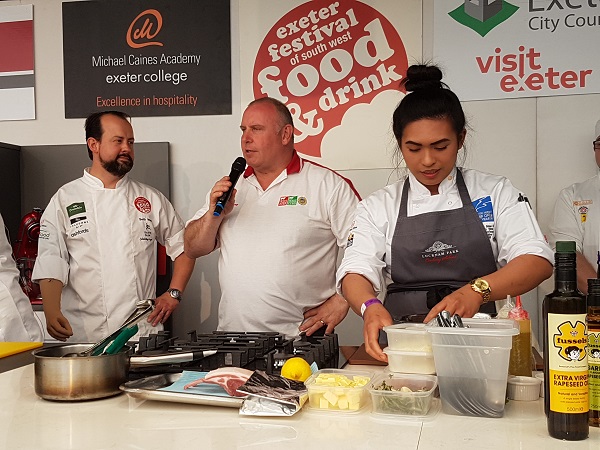 Mae cooked a beautiful rack of Westcountry lamb, parmesan gnocchi, asparagus, spinach, morels, fricassée of peas and mint salsa verde.
She was using Westcountry PGI lamb very kindly supplied by our sponsor, Westcountry Beef and Lamb, represented by Karl Pendlebury who joined the chefs on stage to talk about PGI beef and lamb.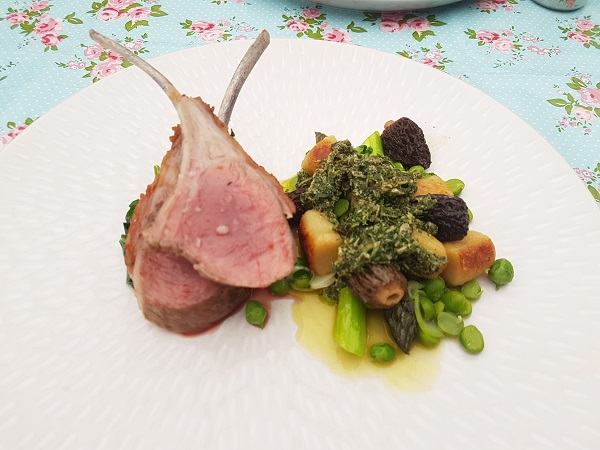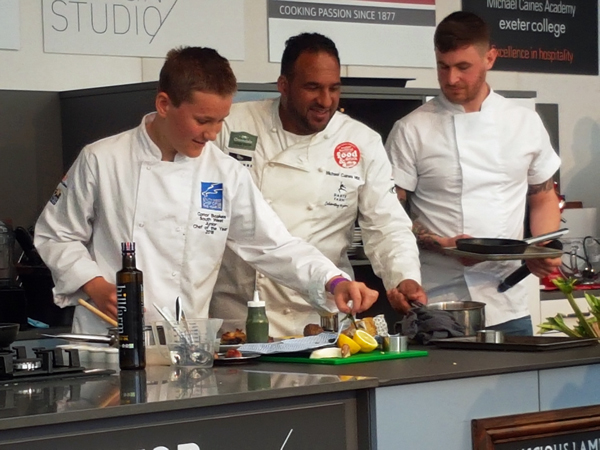 Conor prepared his competition winning dish of venison loin with a faggot, pommes Anna, celeriac purée and a blackberry sauce.
Pictured here with Michael and James as he prepared to plate up – it's not every 14 year old budding chef that can say that Michael Caines has served as their commis chef!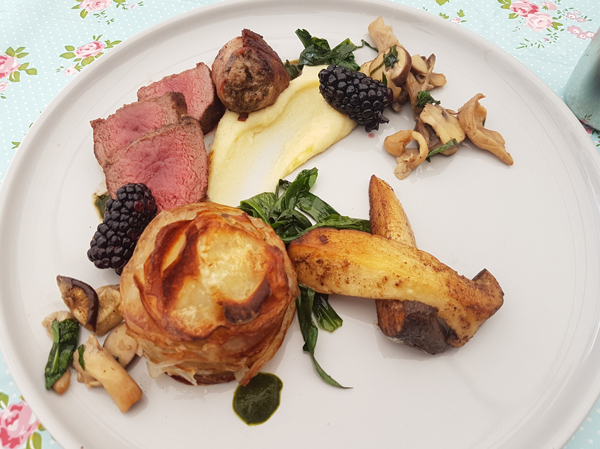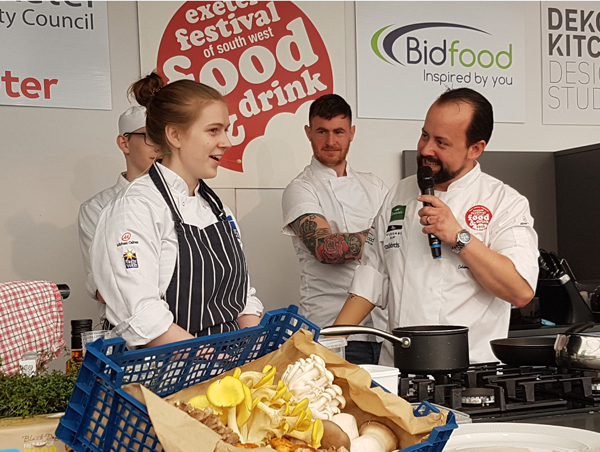 Sophie demonstrated her pastry skills with a delicious chocolate orange bavarois served with a chantilly cream.  Her recipe for this was published in a recent edition of the Crumbs magazine that featured Sophie.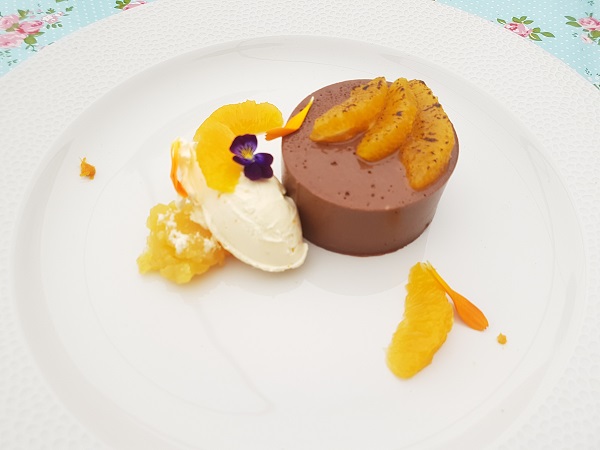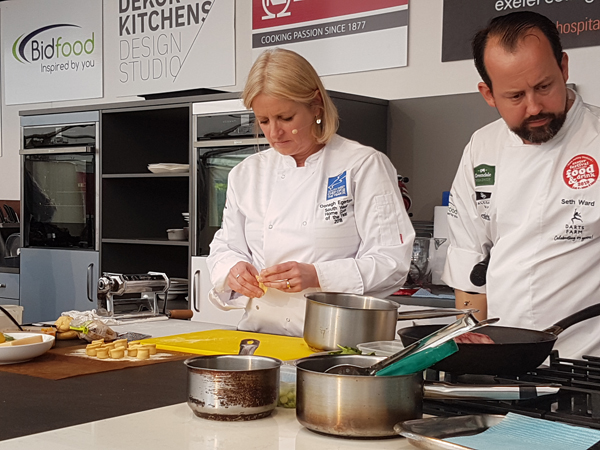 As part of her prize, Oonagh enjoyed a cookery course provided by Home Cook sponsor, Ashburton Cookery School, and demonstrated the pasta-making skills she learned there with butternut squash tortellini in a sage and hazelnut butter.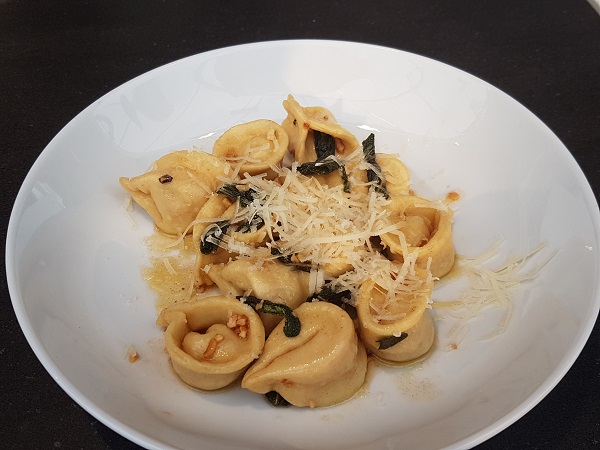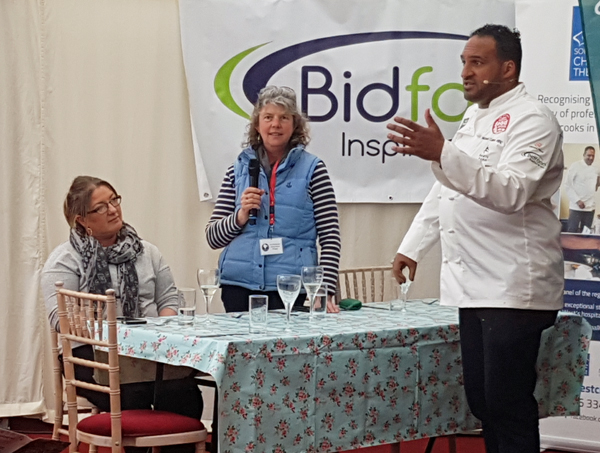 South West Home Cook 2016 and 2017, Sue Stoneman, told the audience about the exciting food adventures she in enjoying since winning including blogging with Dining Devon, cookery demonstrations, food judging, restaurant reviews and much more!