Congratulations to Oliver, winner of the South West regional final of the Springboard FutureChef competition!
Thanks to our partnership with the Springboard FutureChef competition, each of our Junior Chef finalists was invited to take part in the FutureChef regional final, bypassing the school and local heats.
Three of the six finalists chose to take part in the final at Bridgwater and Taunton College on Thursday 5th February 2020, Oliver, Munopa and George, where they competed against five other young cooks who had been successful in wining their local heats.  The three remaining South West Junior Chef finalists, Katherine, Katie and Susanna chose not to compete whilst they are concentrating on their exams!
After an extremely close competition, we were delighted that Oliver, Devon Junior Chef of the Year 2019 and consequently a finalist in South West Junior Chef of the Year, was named the winner.  Oliver will now go on to represent the South West at the national final in London on 16th March.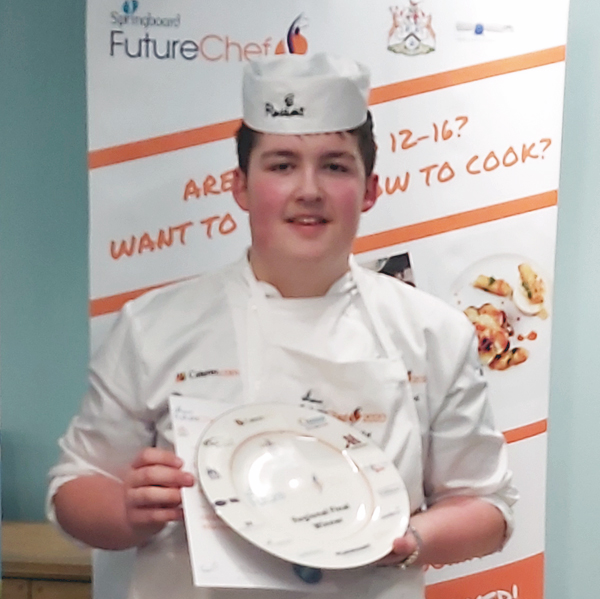 His winning menu consisted of garlic & thyme chicken breast with fondant potato, tender stem broccoli, carrot purée, parsnip crisps and a stock-based sauce followed by apple puff pastry tart, toasted walnuts, clotted cream and raspberry coulis (pictures below).
Well done to all the young cooks (aged 12-16) who took part in the final and who presented an exceptional range of exciting dishes – details below.
The other finalists were (beginning with the two remaining South West Junior Chef finalists):
Munopa, South West Junior Chef of the Year winner and Somerset Junior Chef of the Year from Queens College, Taunton, who cooked:
Venison loin with a venison bolognese, celeriac cream, venison sauce and root vegetables followed by a gallette of Cox's apple with a spiced apple ice cream
George, Cornwall Junior Chef of the Year from Truro School who cooked:
Sea Bass en papillote with tomato and olive salsa followed by glazed apple and Calvados tart
Antwan from Nova Hreod Academy, Swindon, Wiltshire who cooked:
Fillet of Cod with poached egg, crushed potatoes, chive butter sauce and a bacon crumb followed by apple tarte tatin.
Beth from The Castle School who cooked:
Roasted tomato and basil quiche, citrus salad and lemon dressing followed by Black Forest lava cake with vanilla cream and cherry coulis.
Joshua from Heathfield Community School, Somerset who cooked:
Thai Green Curry with fragrant rice and fresh Asian cucumber salad followed by rich hot chocolate fondant with berries, crumb and chantilly cream
Luke from The Spires College, Torquay, Devon who cooked:
Stuffed and wrapped chicken served with seasonal vegetables and new potatoes followed by sticky toffee pudding
Natasha from St Ives School, Cornwall who cooked:
Duck in red wine just with honey glazed carrots and green beans followed by sticky thyme pear
Yasmin from Torquay Girl's Grammar School, Devon who cooked:
Vegan and gluten free whole roasted cauliflower with toasted almonds, beetroot purée, served with a warm cannellini bean salad and roasted, turned carrots with rosemary and thyme topped with edible flowers followed by vegan and gluten free raspberry and rose coconut panna cotta with a Turkish Delight and raspberry fruit salad topped with pistachios, mint and rose petals.
Many congratulations to all competitors on reaching this stage of the competition!
Good luck to Oliver at the national final that will be held at Westminster Kingsway College, London.
Click here to read more about the competition on the FutureChef website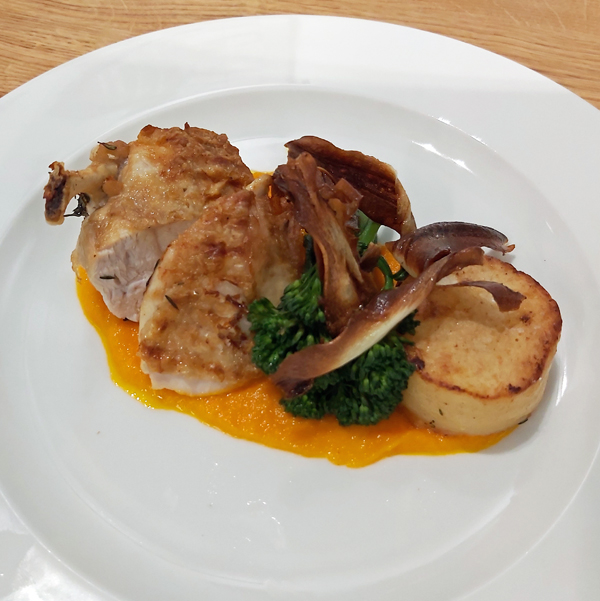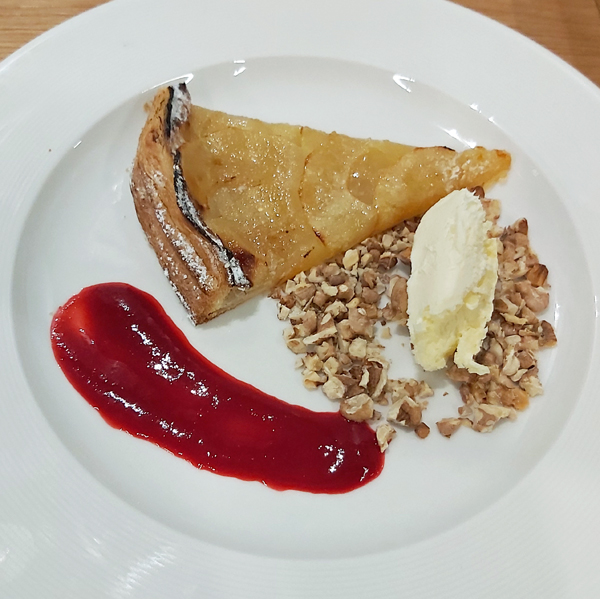 Garlic & thyme chicken breast with fondant potato, tender stem broccoli, carrot purée, parsnip crisps and a stock-based sauce
Apple puff pastry tart, toasted walnuts, clotted cream and raspberry coulis