Our Junior Chef competitors will take centre stage during the first two weeks of July when the county finals of the junior category take place in each of the six counties of the South West.
Judges will enjoy the diverse range of delicious recipes that will be prepared by those keen young cooks aged 11-16 whose entries were selected for this round of the competition.  They will then face the challenge of selecting just one winner in each county who will go through to the South West final in October.  (Details of each county final and those taking part can be found below).
Each county winner will be mentored by one of our judges to help them to build their skills and their confidence in the kitchen and to develop their dish for the final.  At the final, competitors will prepare the same dish again but, this time, with the benefit of the input of one of our judges who will show them how they might be able to tweak and enhance their dish.
County winners will also be invited to take part in the regional finals of the Springboard FutureChef competition in February, bypassing their local finals, to compete for a place in the FutureChef national final.
We are delighted to see five former South West finalists return to the competition again this year and, after reading the recipes entered by all competing in the county finals, we are looking forward to some fantastic cooking in all six counties!
Thank you very much to all who entered and congratulations to those invited to the county finals (see below) where they will prepare a main course dish using locally sourced ingredients.
Thank you very much to Michael Caines MBE and Lympstone Manor, sponsors of the Junior Chef category, to all of our dedicated junior category judges and mentors (outlined below) and to the region's catering colleges who very kindly host the county finals.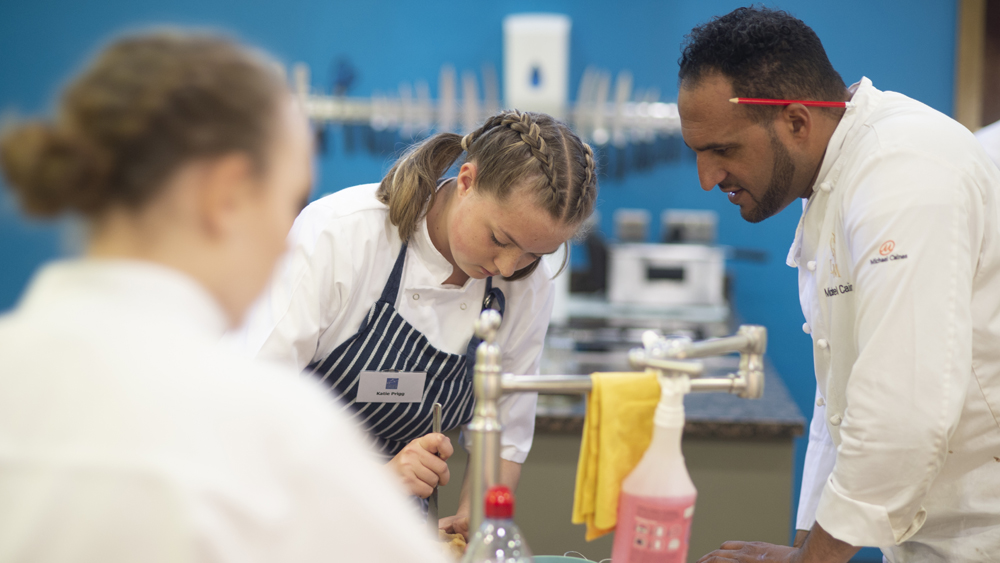 Cornwall
Cornwall College, Camborne
Friday 5th July
Judges:
Stephane Delourme – Head Chef, The Seafood Restaurant, Padstow
Emily Scott – Chef Proprietor, St Tudy Inn, St Tudy
Tracy Page – Chef Lecturer, Cornwall College
Mentor judge:
Emily Scott
Cornwall Junior finalists
Alfie- Brannel School, St Austell
Amelia – Brannel School, St Austell
Benji – Truro School
George – Truro School
Harvey – St Joseph's School, Launceston
Joseph- St Joseph's School, Launceston
Devon
Exeter College
Thursday 4th July
Judges:
Mark Dodson – Chef Proprietor, The Masons Arms, Knowstone
Scott Paton – Head Chef, Boringdon Hall, Plymouth
Mark Stoyle – Head of Hospitality, Exeter College
Mentor judge:
Mark Dodson
Devon Junior finalists
Amélie – Trinity School, Teignmouth
Blake – Plymouth School of Creative Arts
Edward – Stover School, Newton Abbot
Emily – St Luke's Science and Sport College, Exeter
Oliver – Stover School, Newton Abbot
Oliver – The Kings School, Ottery St Mary
Samantha– Stover School, Newton Abbot
Dorset
Bournemouth and Poole College
Monday 8th July
Judges:
Pete Murt – Head Chef at Rick Stein, Sandbanks
Russell Brown – Director, Creative About Cuisine
Gary Kilminster – Business Development Executive, Essential Cuisine
David Marshall – Chef Lecturer, Bournemouth & Poole College
Mentor judge:
Pete Murt
Dorset Junior finalists
Alfie – Oak Academy, Bournemouth
Evie– Lytchett Minster School, Poole
Erin– Lytchett Minster School, Poole
Katie – The Gryphon School, Sherborne
Molly– Lytchett Minster School, Poole
Poppy– Lytchett Minster School, Poole
Gloucestershire
Gloucestershire College, Cheltenham
Monday 1st July
Judges:
David Everitt-Matthias – Chef Proprietor, Le Champignon Sauvage
Gus Ashenford – Chef Proprietor, Restaurant 5 North Street, Winchcombe
Renark Cousins – Chef Lecturer, Gloucestershire College
Mentor judge:
Gus Ashenford
Gloucestershire Junior finalists
Evie– Katherine Lady Berkeley's School, Wotton-under-Edge
Leon – Farmor's School, Fairford
Mary– Katherine Lady Berkeley's School, Wotton-under-Edge
Sam– Maidenhill School, Stonehouse
Susannah– Katherine Lady Berkeley's School, Wotton-under-Edge
Zainab – Stroud High School
Somerset
Bridgwater and Taunton College, Taunton
Tuesday 2nd July
Judges:
Liam Finnegan – Head Chef, The Castle Hotel, Taunton
Chris Cleghorn – Head Chef, The Olive Tree, The Queensberry Hotel, Bath
Dean Perry – Chef Lecturer, Bridgwater and Taunton College
Mentor judge:
Liam Finnegan
Somerset Junior finalists
Abigail – The King Alfred School and Academy, Highbridge
Conor– Whitstone School, Shepton Mallet
Holly – Queen's College, Taunton
Louis – Westfield Academy, Yeovil
Munopa – Queen's College, Taunton
Phoebe – St Katherine's School, Ham Green
Wiltshire
Wiltshire College Trowbridge
Tuesday 9th July
Judges:
Hywel Jones – Executive Chef, Lucknam Park, Bath
Robert Potter – Executive Chef, Manor House Hotel, Castle Combe
Stephen Lloyd, Chef Lecturer, Wiltshire College
Mentor judge:
Hywel Jones
Wiltshire Junior finalists
Katherine – The Ridgeway School, Swindon
Phoebe – Nova Hreod Academy, Swindon
Rhys – Wellington Academy, Tidworth
Theo – Bishop Wordsworth's School, Salisbury