"An amazing experience!"
Thinking of entering South West Junior Chef of the Year?
2022 winner, Syd Yarde, tells us about his experience of the competition and why he firmly believes you should enter!
In 2022, Syd Yarde, from Torquay in Devon, entered South West Junior Chef of the Year and his entry was selected by our judges for the Devon county final.  After winning Devon Junior Chef of the Year, this promising young chef went on to take the overall South West title.  Syd has enjoyed a thrilling culinary journey since then, learning from some of the region's most respected chefs, and has many exciting new adventures to come!
In Syd's words:
"Since winning the South West Junior Chef competition in October 2022, I have met some amazing chefs and have been fortunate to have gained work experience with three, Michelin-starred chefs, Mark Dodson at the Masons Arms in Knowstone, Scott Paton at Àclèaf at Borringdon Hall, Plympton, and David Everitt-Matthias at Le Champignon Sauvage in Cheltenham. I cannot thank them enough for all the encouragement and support they have given me."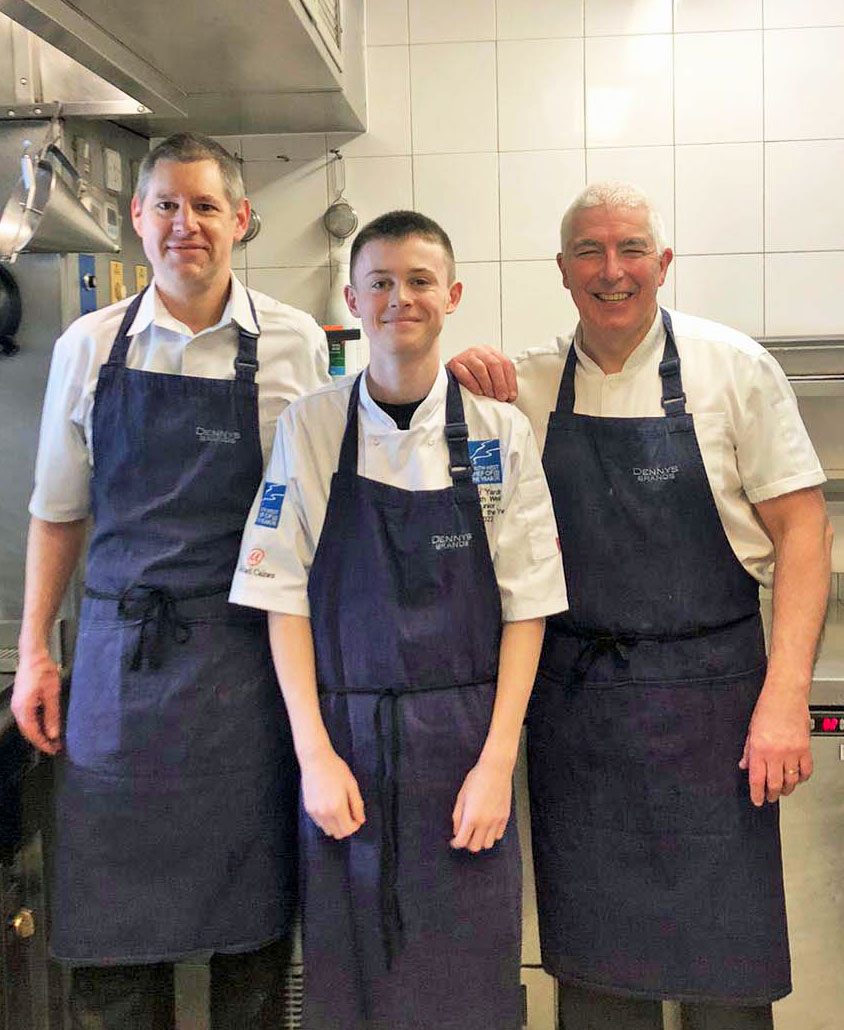 Syd with David Everitt-Matthias (right), Chef Proprietor at Le Champignon Sauvage, Cheltenham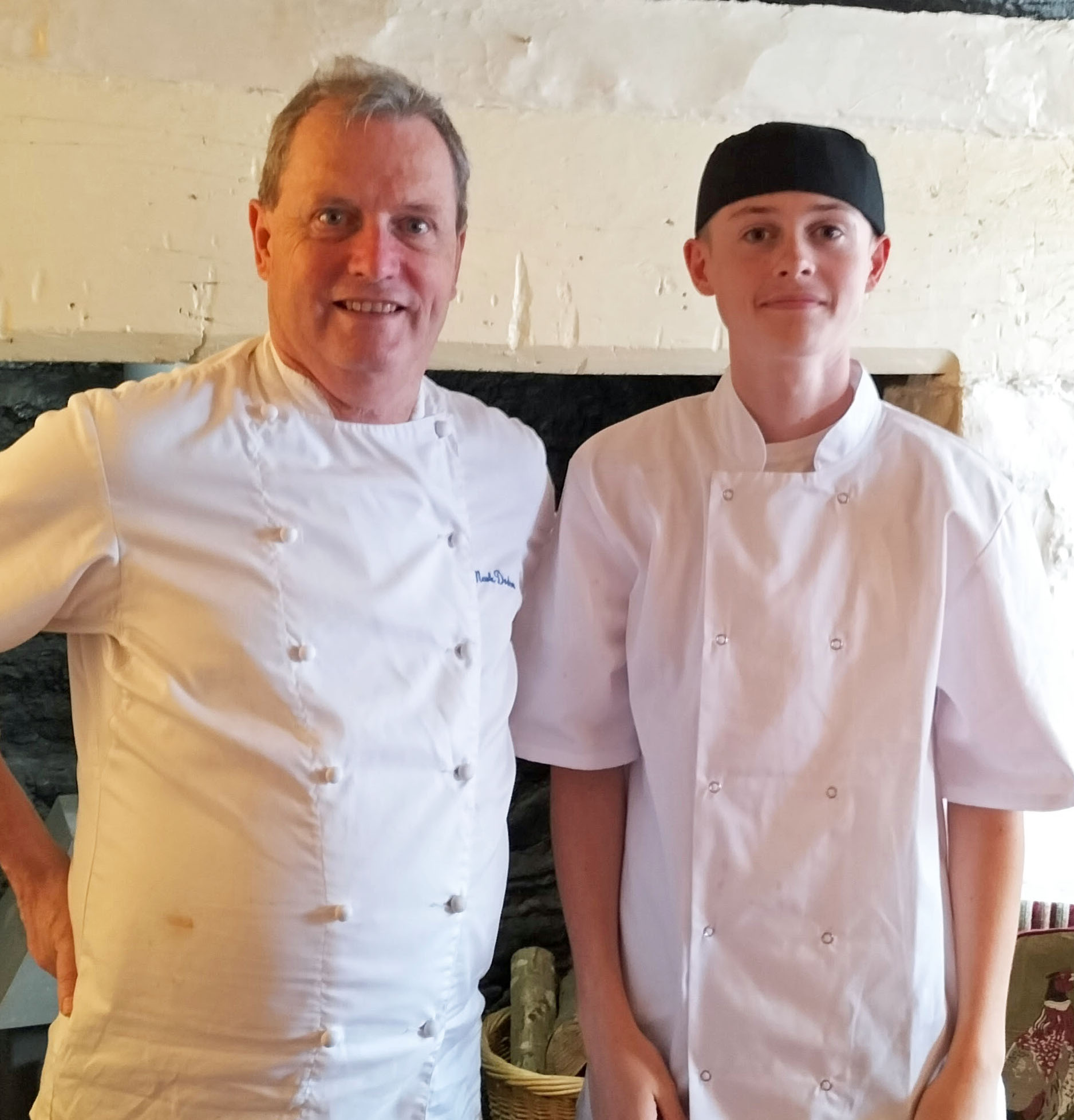 Syd with Mark Dodson, Chef Proprietor at The Masons Arms, Knowstone
"In July, for my Year 10 work experience, I will be joining Simon Hulstone and his team at the Elephant Restaurant in Torquay and I am looking forward to this experience in my home town!
And, I am really excited to say that I will be starting work with the team at Àclèaf, Borringdon Hall in May."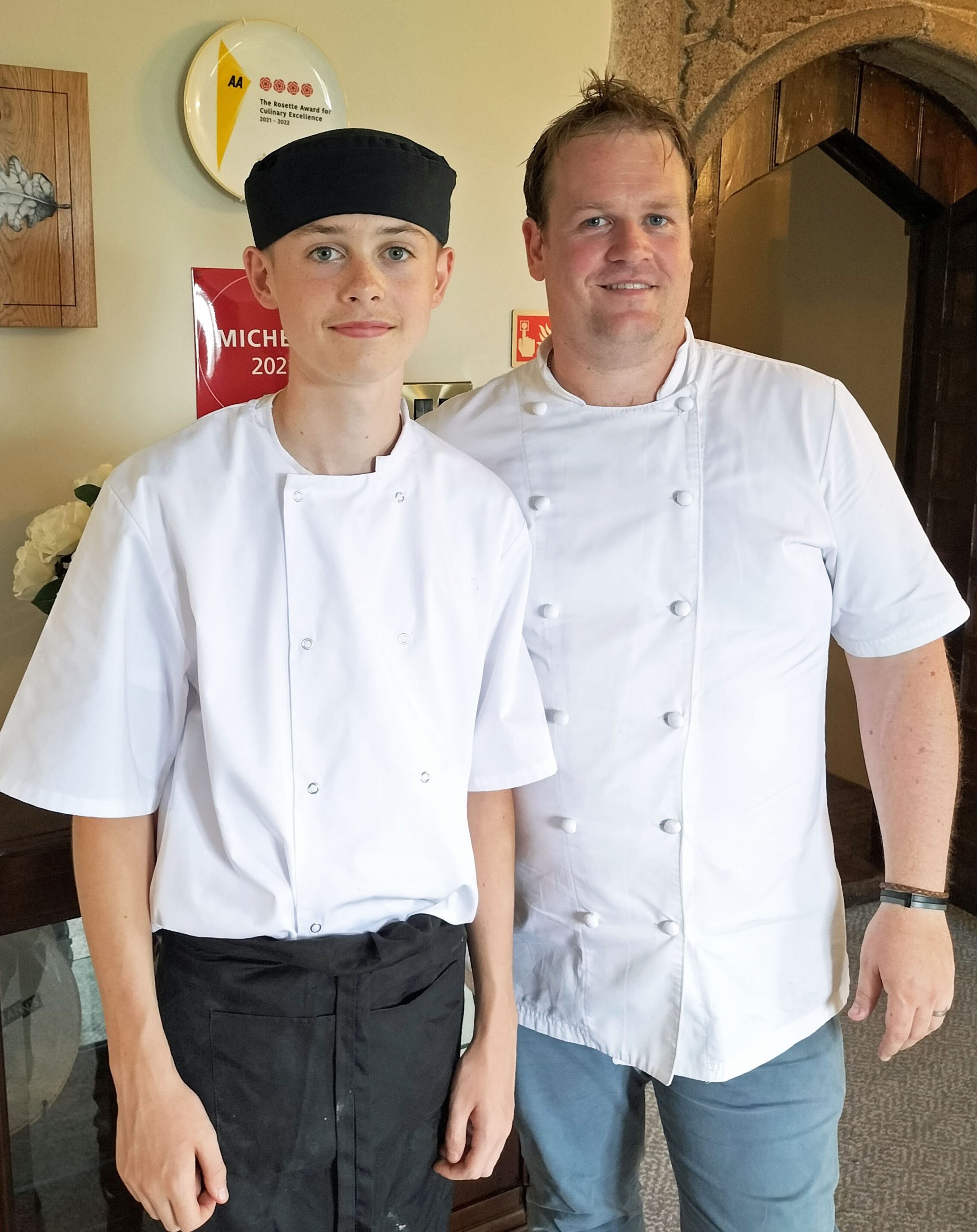 Syd with Scott Paton, Head Chef, Àclèaf, Boringdon Hall, Plympton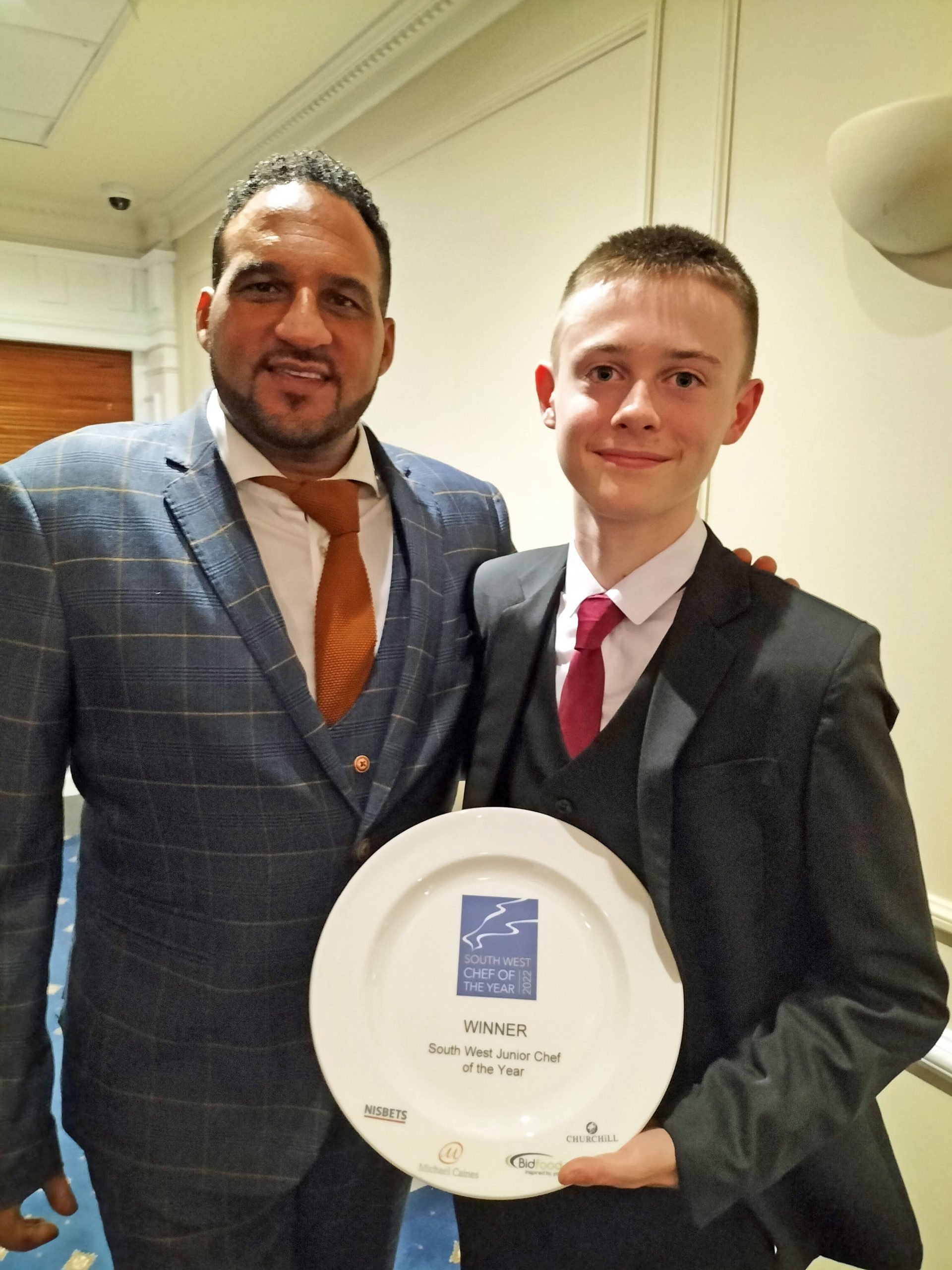 Syd with Michael Caines MBE DL at the South West Chef of the Year awards evening
"The South West Chef awards evening, back in October last year, was an amazing evening and a very special memory, meeting all the other winners and the organisers, and the legend, Michael Caines, was awesome.
I cannot encourage any young person enough to enter this competition.  If cooking is your passion, you get so much support and encouragement, it's a journey worth taking from competing at the Devon county final, through to the final awards, it is an amazing experience.  I feel very lucky to have won last year, so if you are thinking of entering, do it!!!!
Good luck everyone I will be following the competition!"
See below for more details on this year's competition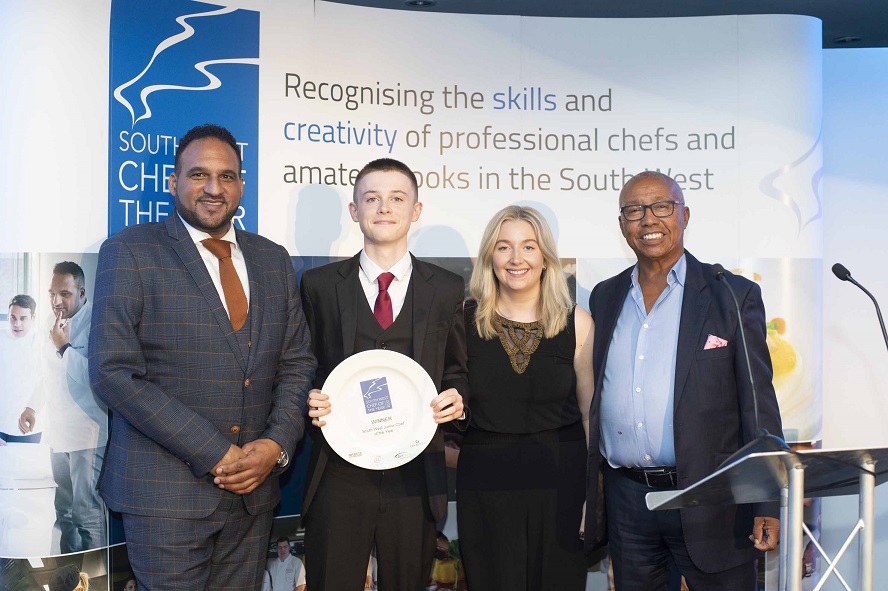 Syd receiving his award at our awards presentation evening from Michael Caines, Hannah O'Flaherty (Nisbets) and Andy Kemp (Bidfood)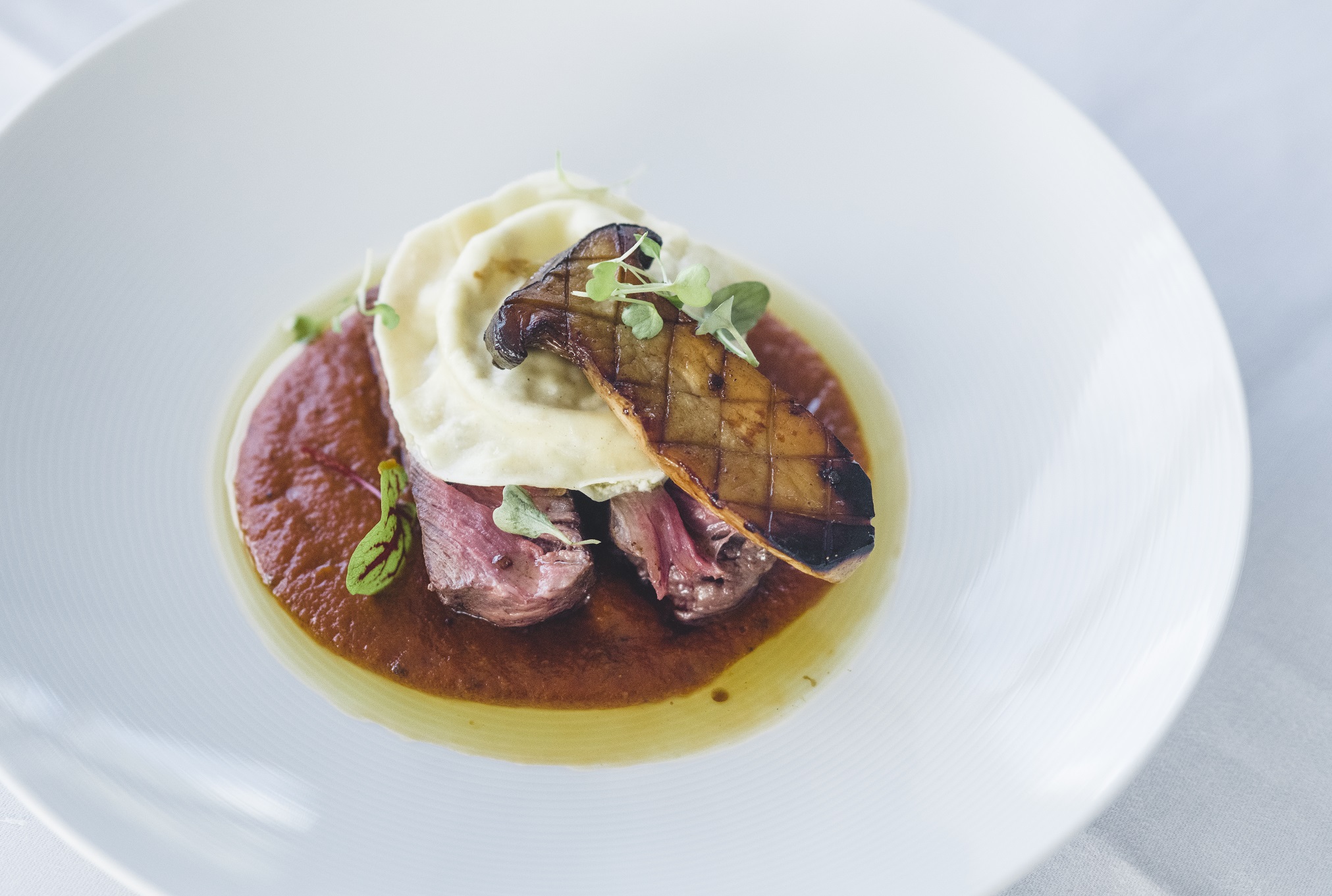 Syd's winning dish of West Country fillet of beef, goat's cheese, and mushroom ravioli served with a rich roasted tomato & balsamic sauce and King Oyster mushroom
Entries are open for South West Chef of the Year 2023 and this is your chance to demonstrate your skills and meet other like-mind young cooks and professional chefs!
Simply send us your recipe for a main course dish to serve two, using principally locally grown and produced ingredients. After evaluating all the recipes entered, our judges will select those junior chefs they would like to invite to the next round of the competition, to cook for a chance to earn the title of the top young cook in their own county.  Each county winner will then meet at the grand final of South West Junior Chef of the Year on 7th October.
To help finalists to prepare for the South West final, they will receive advice and mentoring from one of our judges, enabling them to learn new skills and experience life in a working kitchen.
The overall winner will be rewarded with the opportunity to gain valuable experience in the kitchen of renowned and highly-respected Michelin-starred chef, David Everitt-Matthias, at his restaurant, Le Champignon Sauvage, in Cheltenham.
Furthermore, all six county winners (and regional finalists) will be invited to compete at the Springboard FutureChef regional final in February 2024 (bypassing the school and local heats) for a chance to reach their national final!
The closing date for entries is Tuesday 23rd May 2023
Click here for further details and a link to the entry form.
N.B. Competitors must be aged 11-16 and still at school in year 11 or below on the date of the final (7th October).