Over the last few weeks, the South West's young cooks have been taking over the kitchens at the region's catering colleges in a bid to become the top young cooks in their own counties.
Judges have been astounded by the level of skill among the young cooks aged 11-16, frequently agreeing that they were not able to prepare such ambitious dishes themselves at the same age – a comment echoed throughout each of the county finals.  We are certainly anticipating a thrilling South West final in October!
One young cook in each of the six counties was selected by our judges as the winner of their county title thus earning their place in the overall final.
In addition to this, each winner will also spend time in the kitchen of one of the judges to help them develop their skills and confidence, to provide them with valuable experience of a working kitchen and to help them tweak and prepare their dish for the final.
We are extremely grateful to all of the county judges who give up their time so generously to judge the competition and provide helpful feedback to all competitors and particularly to those who support the finalists through the mentoring process.
Thank you also, to the catering colleges who kindly host the county finals, offering the young cooks a taster of life as a catering student.
For the first time this year, we are delighted that each of the South West finalists will also be offered the opportunity to compete in the regional finals of the Springboard FutureChef competition, bypassing the local finals, thanks to a partnership we have established with Springboard UK.
Well done to all who took part in the county finals and many congratulations to the winners (outlined below) who will now meet at the South West final on Saturday 6th October at Ashburton Cookery School.
Thank you very much to Michael Caines MBE and Lympstone Manor, sponsors of the Junior Chef category.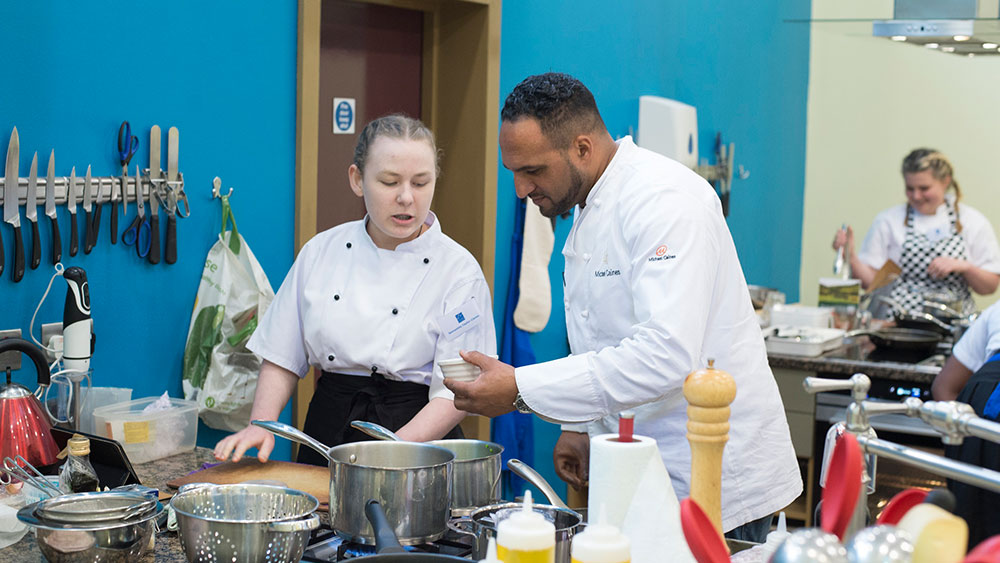 Cornwall
Cornwall College, Camborne
Judges:
Stephane Delourme – Head Chef, The Seafood Restaurant, Padstow
Emily Scott – Chef Proprietor, St Tudy Inn, St Tudy
Clyde Conellan – Chef Lecturer, Cornwall College
Mentor judge:
Stephane Delourme
Cornwall Junior finalists
William – Hayle Academy
Christopher – Penair School, Truro
Jorgia – Callington Community College
Nicole – Penair School, Truro
Max – Pool Academy, Redruth
Molly – Treviglas Community College, Newquay
Cornwall Junior Chef of the Year 2018
Jorgia – Callington Community College
Devon
Exeter College
Judges:
Mark Dodson – Chef Proprietor, The Masons Arms, Knowstone
Scott Paton – Head Chef, Boringdon Hall, Plymouth
Mark Stoyle – Head of Hospitality, Exeter College
Mentor judge:
Mark Dodson
Devon Junior finalists
Chloe – St Luke's College, Exeter
Sam – Clyst Vale Community College, Broadclyst
Ben – Tiverton High School
Megan – West Exe School, Exeter
Samantha – Stover School, Newton Abbot
Callum – Dartmouth Academy
Devon Junior Chef of the Year 2018
Samantha – Stover School, Newton Abbot
Dorset
Bournemouth and Poole College
Judges:
Russell Brown – Director, Creative About Cuisine
Pete Murt – Head Chef at Rick Stein, Sandbanks
David Marshall – Chef Lecturer, Bournemouth & Poole College
Mentor judge:
Pete Murt
Dorset Junior finalists
Kate – Clayesmore School, Iwerne Minster
Holly – Lytchett Minster School
Katie – The Gryphon School, Sherborne
Poppy – Lytchett Minster School
Jessie – Lytchett Minster School
Alicia – Lytchett Minster School
Dorset Junior Chef of the Year 2018
Katie – The Gryphon School, Sherborne
Gloucestershire
Gloucestershire College, Cheltenham
Judges:
David Everitt-Matthias – Chef Proprietor, Le Champignon Sauvage
Gus Ashenford – Chef Proprietor, Restaurant 5 North Street, Winchcombe
Matt Stead – Chef Lecturer, Gloucestershire College
Mentor judge:
Gus Ashenford
Gloucestershire Junior finalists
Eva – Maidenhill School, Stonehouse
Madeleine – Maidenhill School, Stonehouse
 Tom – The Castle School, Thornbury
Leon – Farmor's School, Fairford
Aleah – Maidenhill School, Stonehouse
Chloe – Farmor's School, Fairford
Dorset Junior Chef of the Year 2018
Eva – Maidenhill School, Stonehouse
Somerset
Bridgwater and Taunton College, Taunton
Judges:
Liam Finnegan – Head Chef, The Castle Hotel, Taunton
Elly Wentworth – Sous Chef, Lucknam Park, Bath
Dean Perry – Chef Lecturer, Bridgwater and Taunton College
Mentor judge:
Liam Finnegan
Somerset Junior finalists
Charlie – Writhlington School, Radstock
Bethany – Whitstone School, Shepton Mallet
Conor – Whitstone School, Shepton Mallet
James – Queen's College, Taunton
Olivia – Queen's College, Taunton
Nicole – Hans Price Academy, Weston-super-Mare
Somerset Junior Chef of the Year 2018
Conor – Whitstone School, Shepton Mallet
Wiltshire
Wiltshire College Trowbridge
Judges:
Tom Westerland – Head Chef, The Brasserie, Lucknam Park, Bath (standing in for Hywel Jones, Executive Chef, Lucknam Park)
Stephen Lloyd, Chef Lecturer, Wiltshire College
Mentor judge:
Hywel Jones
Wiltshire Junior finalists
Rhys – Wellington Academy, Tidworth
Megan – Trafalgar School at Downton
Hattie – St Edmunds Girls School, Salisbury
Isobel – Lavington School, Market Lavington
Wiltshire Junior Chef of the Year 2018
Rhys – Wellington Academy, Tidworth